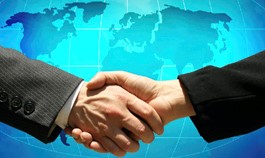 The BANK of Greenland is the leading full-service credit institution in Greenland; its size enables us to meet our customers' requirements for banking services and consultancy. The bank also cooperates with a number of professionals thus enabling us to offer the best packages within the areas of home-banking, mortgage credit, insurance, payment services and investment.
BEC
IT systems are vital for the operation of a modern bank. Since 1981, the bank has been co-owner of BEC (The Bankers' IT Centre in Roskilde, Denmark). All operations and development of the bank's IT systems are made in close cooperation with BEC.
Mortgage Credit
Over the past several years, the bank has worked closely with Danish mortgage credit institutes, primarily Nykredit* and DLR Kredit* in order to offer its customers loans for housing in particular.
Insurance
In 2001, the bank entered into a formalised collaboration with Kalaallit Forsikring Agentur/IF* with the aim of providing non-life insurance to retail customers.
The bank also provides insurance aimed primarily at insuring credit exposures through its collaboration with nærpension*
Debit and Credit Cards
The bank collaborates with MasterCard* and Visa*.
Payment Systems

The bank collaborates with Nets* which is best known for its Payment Service and the Dankort. In Greenland, this collaboration also comprises payments with the bank's AKILIUT-card in Danish ATMs.
Under the terms of a service contract with Greenland Self-Government, the bank assists in ensuring that the level of payment transfer service desired by Self-Government is in place in those locations in Greenland where there is no commercial basis for setting up branch offices.
Unit Trusts
The bank collaborates with BankInvest* and Sparinvest* in order to provide our customers with unit trusts. Over the past several years, unit trusts have become very widespread among the bank's customers as a vehicle for savings.

The bank also collaborates with:
Nasdaq OMX Nordic (The Danish Stock Exchange)
Finansrådet (The Danish Bankers' Association)
Finanssektorens uddannelsescenter (The Finance Sector's Training Centre)
Lokale pengeinstitutter (The association of Local Credit Institutes)
Arbejdernes Landsbank

The BANK of Greenland receives commissions from the companies marked with an asterisk (*):
| | | |
| --- | --- | --- |
|  Partner  |  Subscription commission (min.-max.)  |  Trailer fee (min.-max.)  |
| BankInvest | 0,00-1,25 % | 0,30-1,35 % |
| Sparinvest | 0,00-1,25 % | 0,30-0,75 % |